Fluid Power Services
When working in the fluid power industry, you need a partner who can provide more than just standard hydraulic and pneumatic fluid power repair components and technical advice; you need an experienced team who can deliver integrated fluid power solutions.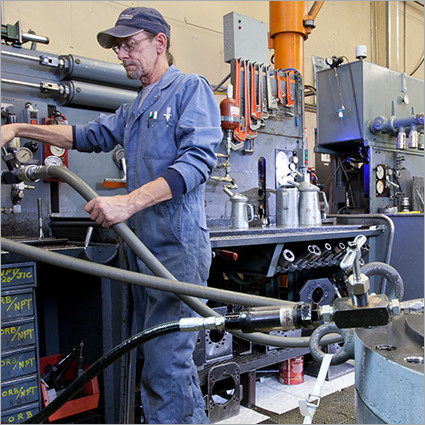 Hydraulic Pump, Motor, Valve and Cylinder Repairs
The Applied Fluid Power family of companies has state-of-the-art repair facilities for pumps, motors, valves and cylinders in varying size and horsepower. Our factory-trained technicians, OE parts and advanced equipment keep your facilities running.
Our hydraulic pump, motor, valve and cylinder repair capabilities include:
Repair facilities across North America
Six Eaton Authorized Warranty Centers
Factory-trained technicians
Largest test stand in the western US

750 HP test stand
Capable of 170 GPM at 5,500 PS

Valve repair, including an Authorized Denison Hydraulic Valve Repair Center and repair of Ross Press Valves, Numatics Valves and Versa Valves
Hydraulic motor repair, including Char-Lynn, White and Danfoss LSHT hydraulic motors and an experienced Denison Hydraulic Motor Repair Center

Vickers PVH/PVM Reman Program

Performed in Authorized Eaton Warranty Centers by factory-certified technicians
Pumps rebuilt to factory new performance
Utilizes Genuine Vickers Factory Parts for optimum performance
Special factory reduced parts pricing
Remanufactured units stocked locally for immediate availability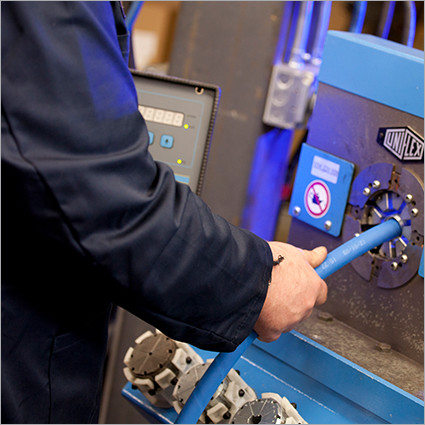 Replacement Hydraulic Hose Assemblies on Demand
Many of the Applied Fluid Power companies are certified Aeroquip Hose Centers offering the highest level of quality and cleanliness with automated hose cutting and kitting capabilities, certified hose technicians, custom protective ending for transport and hose cleaning upon manufacture. We offer high-quality hydraulic, pneumatic and fluid transfer hoses and fittings, with 3,500 commonly-used combinations in stock, including:
Automotive engine
Suction hose
Truck hose
Engine fuel and oil
Airbrake hose
Air compressor
Power steering
Hydraulic hose
Pneumatic hose

High pressure air
Jack hose
Utility truck hose
Mobile equipment
Chemical transfer hose
Aeroquip Synflex thermoplastic hose
Aeroquip Everflex steam hose
Aeroquip A/C and refrigeration hose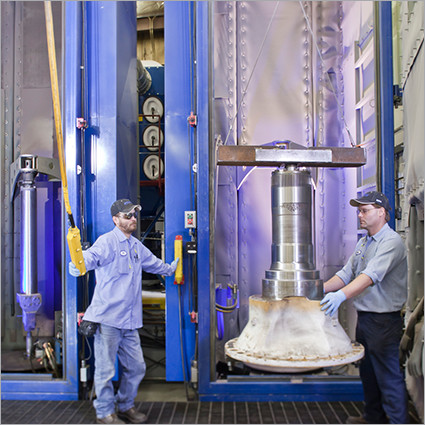 High-Velocity Oxygen Fuel (HVOF) System: An Environmentally Safe Thermal Spray Chroming Process for Extending the life of Hydraulic Cylinder Rods
Applied Fluid Power is a pioneer in High-Velocity Oxygen Fuel (HVOF) Cylinder Rod Resurfacing. Our team has invested in the best equipment available to bring you the cleanest and most environmentally-friendly thermal spray method for hydraulic actuators. The HVOF process utilizes a material in powder form that is injected into a flame of supersonic gas. The material softens in the flame and forms a dense coating on the substrate.
The HVOF process eliminates the use of chromic acid solutions, which are known carcinogens and can cause a host of other health problems. It also improves performance of cylindrical metal parts, dramatically lengthening component and seal life. This coating:
Reduces corrosion and rust on the surface of the component
Increases impact resistance
Is believed to be the safest and most effective protection coating in the marketplace
Estimated cylinder life improvement is as high as five times that of chrome, which means less opportunity for downtime.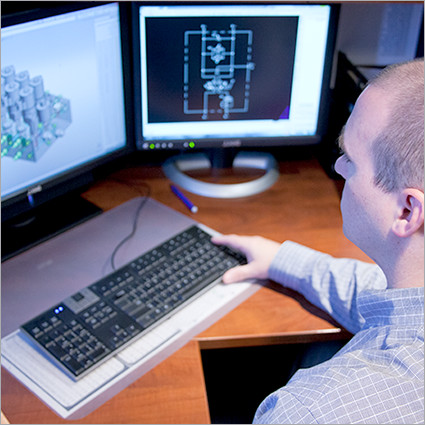 Custom Design and Manufacture of Hydraulic Power Units
The Applied Fluid Power network offers Hydraulic Power Unit solutions that are economical, efficient and tailored for the particular task at hand. Our team of certified engineers is versed in both open loop and closed loop control systems as well as feedback control systems. We have experience in various mobile and industrial applications, including:
Testing
Conveyers
Drives
Metalworking presses and systems
Engine and engine drive systems
Custom Hydraulic Manifolds for Petroleum, Synthetic or High Water-Based Fluids
Using the latest CAD software and our years of experience designing mobile equipment, hydraulic circuits and manifolds, our team develops practical and efficient cartridge valve manifolds. CAD technology makes revisions and redesigns easy and quick, reducing the time from drawing board to manufacturing. The CAD drawings are then used to quickly work with the end user to fine tune the design to perfectly fit the application.
Most of our manifolds are made of 6061-T6 aluminum, however, we also use ductile iron and steel when needed or requested. Our machinery has the capacity for manifolds up to about 10"x10"x16" and quantities from one to 1000.
Our CNC equipment is programmed and ready for rapid and repeatable set ups so we can easily handle short runs and partial releases of larger orders. We also have the latest equipment (high horsepower and rpm, pallet changers, and coolant through the spindle) to be cost effective on high volume runs.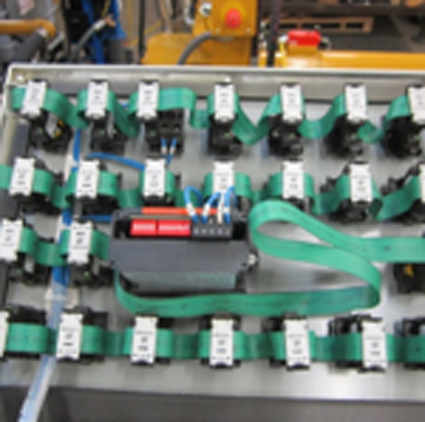 Fluid Power Systems and Electronic Controls Integration
From concept to completion, the Applied Fluid Power companies design and build custom fluid power systems for a diverse selection of industries using AutoCAD and 3D software. Additionally, systems are manufactured in ISO certified facilities.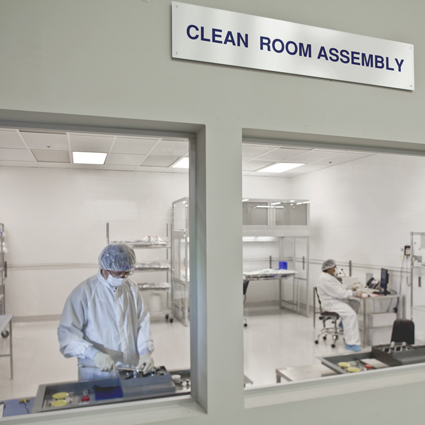 Clean Room Capabilities
The Applied Fluid Power network includes a Class 1,000 cleanroom and a Class 100 hood, providing the ideal assembly environment for semi-conductor and medical application projects.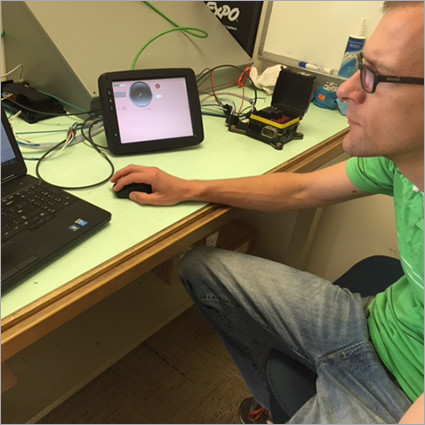 Electro-Hydraulic and Electro-Pneumatic Control Packages and Test Stands
As Certified Electronic Controls P1 Integrators, the Applied Fluid Power companies provide access to the industry's finest electro-hydraulic experts across the country to design electro-hydraulic systems that optimize performance. Our team has the broadest combined set of electrical and hydraulic products available anywhere, including rapid prototypes that refine solutions and dramatically reduce overall time and cost. As the country's leading single-source electro-hydraulic supplier, our network offers a lower total cost of ownership in every project.
Applied Fluid Power companies design and build electronic control packages to manage your machine performance, including:
Full mobile and industrial system integration
CAN BUS integration
HMI developer (touch screen controls)
Proportional, integral and derivative controllers

PLC logic integration
Facilities management via Ethernet
Codesys software programming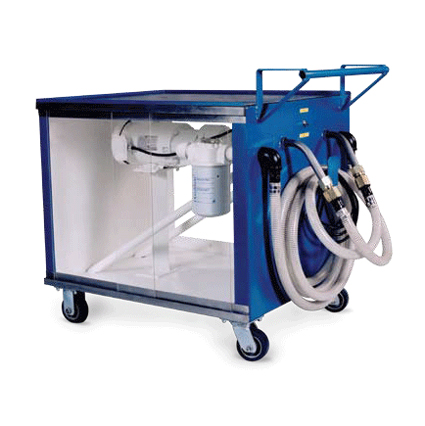 Custom Filtration Systems (fabricated Filtrating Systems and Purifiers)
The Applied Fluid Power network provides SKF and Lincoln lubrication products and support, as well as:
Fluid purification and vacuum dehydration systems
Multi-point lubrication systems
Distribution blocks
Bearing lubrication and filtration products and support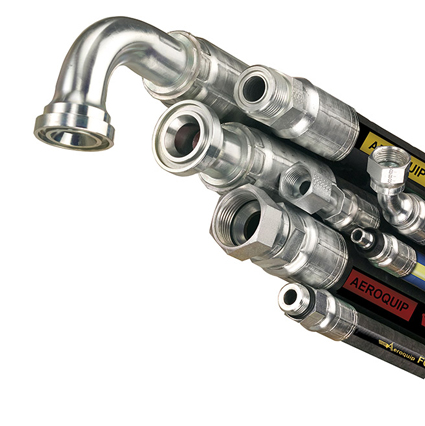 Fluid Sampling and Analysis: Photo Micrograph, Particle Counter and Water Sensor
New oil can be one of the worst sources of particulate and water contamination. Our team can analyze fluids to provide insight into system conditions and help predict and prevent fluid contamination-related issues. Improving fluid cleanliness means reduced downtime, more reliable equipment, longer fluid life, fewer maintenance hours and reduced need for costly component replacement or repair. The Applied Fluid Power network of companies can help you create a plan to achieve and maintain target fluid cleanliness for your operation.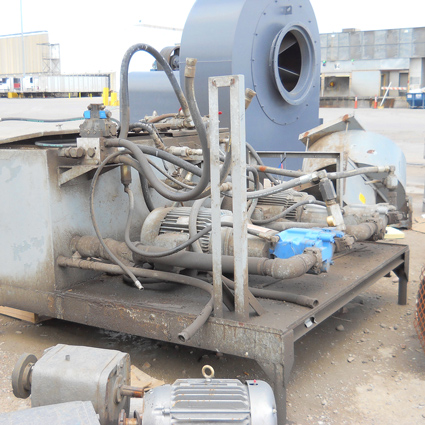 Hydraulic Systems Retrofits: Updating Systems to Current Technology and Standards
Retrofit systems allow you to replace existing out-of-date systems with more modern products. Current versions of electric motors and hydraulic pumps are typically more efficient, cost less to replace or repair and require less maintenance than older products. These higher-efficiency components use less power to operate, which lowers operating costs. Additionally, newer systems typically use standardized components that make spare part management and maintenance easier and reduce downtime waiting for pumps to be rebuilt or repaired.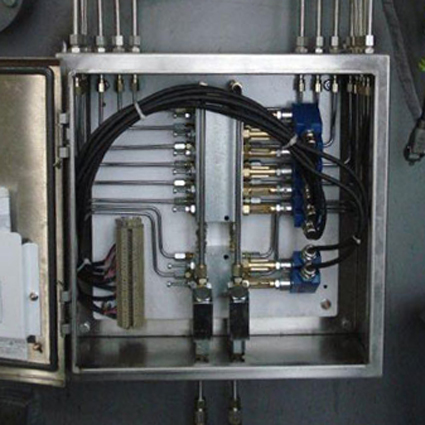 Lube Oil Systems
Our network designs, builds and installs a broad range of centralized lubrication systems, including:
Grease systems (manual and automatic)
Oil systems (manual and automatic)
Oil recirculating systems

Air/oil systems
Specialty systems and accessories
Industrial and mobile applications
Among our network of companies, we represent some of the top lubrication equipment manufacturers, including Bijur Delimon, Alemite, Farval, Graco, Oil-Rite, Dropsa and Vogel. Through these manufacturers, our team is able to stock and service the following products:
Barrel/drum pumps, hose reels, grease guns and lube fittings
Double diaphragm pumps
Oil flow meters
Oil pumps
Single line systems
Dual line systems for oil and grease

Chain conveyor lubrication systems
Aeroquip and Synflex hose (grease filled)
Electrically-powered oil and grease pumps
Fluid meters and valves
Grease pumps
Multi-line (direct feed) systems for oil and grease
We integrate your machine's electronics and hydraulics with a simple user interface to provide the power management your machinery needs.